Acknowledgment:
Many species are difficult to identify from photographs and we are greatly indebted to the many specialists who have contributed their time and efforts to help in this task. Any mistakes are ours.
Contact us:
kfletcher.at.wildsidephotography.ca .....................or scroll down the page for links to a few sample images and quick links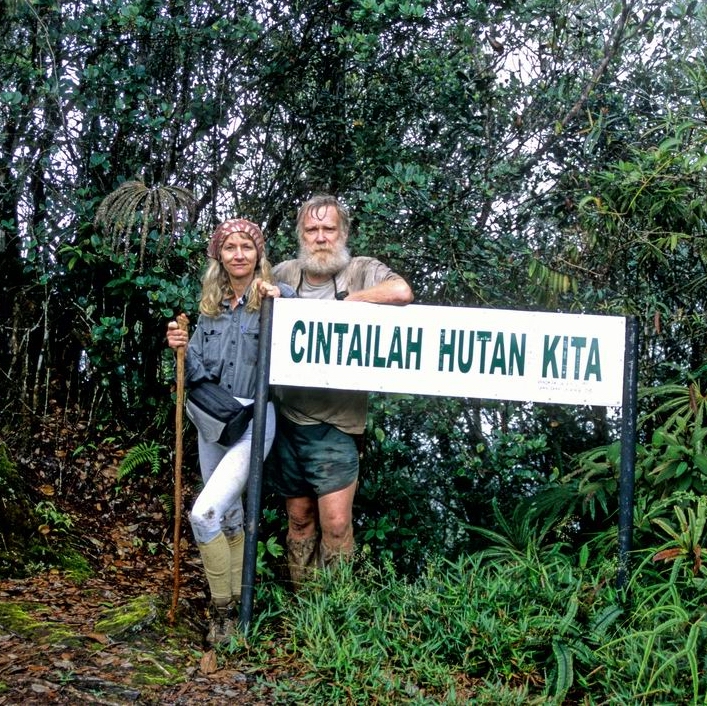 Cambodia All images from Cambodia
Eastern Plains Banteng, Eld's Deer, White-shouldered Ibis, Sarus Cranes and other threatened fauna & flora of the Eastern Plains, Cambodia.
Mekong River Cantor's Giant Softshell Turtle and landscapes, wildlife and flora along the Mekong River from Khone Falls (Laos) to Kratie, Cambodia.

Indonesia All images from Indonesia (Flores & Komodo, Java, Sulawesi, Sumatra and West Papua).
Sulawesi Images of the unusual wildlife of Sulawesi including the Babirusa, Cuscus and Spectral Tarsier.
Flores Landscapes, Komodo Dragons and Hobbits from Flores and Komodo National Park.
Sumatra Orang Utan rehabilitation and wildlife, fauna, flora and environmental images from Sumatra.
Ujung Kulon Landscapes, flora and fauna from Ujung Kulon National Park & World Heritage Site, Java: home of the Javan Rhinoceros.

Malaysia All images from Malaysia.
Lantern Bugs Colourful lantern bugs (Fulgoridae) from the rainforest of Malaysia.
Butterflies Butterflies of Malaysia with links to other insects and arachnids (spiders, scorpions etc).
Snakes Snakes of Malaysia with links to other reptiles (lizards, turtles & crocodiles) and amphibians (frogs & toads).
Birds Birds of Malaysia including the Great Argus and Crested Argus Pheasants, waterbirds and garden birds.
Mammals Photographs of the Sumatran Rhinoceros, Gaur, Malayan Tapir, Sun Bear and other rare and endangered species from Malaysia.
Bats Bat species of Malaysia with high speed photographs of bats in flight and links to other cave fauna.
Primates Primates of Malaysia including the Proboscis monkey and Orang Utan of Borneo, the Siamang and Western Tarsier.

Fungi Photographs of fungi from the rainforests of Malaysia.

Flora A quick look at the botanical diversity of the rainforests of Malaysia with more links below.........
Buttresses Buttresses and flanges help support many species of rainforest trees against blow-down by strong winds.
Lianas Lianas (woody vines) twist and turn as they climb rainforest trees to reach the canopy.
Cauliflory Many rainforest trees exhibit cauliflory whereby their flowers and fruits grow directly from the trunk and branches.
Palms Palms (Arecaceae) are an important component of the Malaysian rainforests from the coastal mangrove swamps to montane forests.
Gingers Zingiberaceae & Costaceae - colourful flowering plants of the Malaysian rainforests.
Rafflesia Rafflesia - the giant parasitic flower of the Malaysian rainforest with timelapse of a Rafflesia cantleyi bloom opening.
Pitcher Plants Pitcher plants (Nepenthes sp) the insectivorous plants that provide a safe haven for tadpoles and other creatures.

Philippines All images from the Philippines.
Panay Island Endangered hornbills, Bleeding pigeons, Flying Foxes & Flying frogs, Cloud Rats, "tiny" Rafflesia and other wildlife, fauna and flora from Panay Island.

Sri Lanka Images of horned lizards, endangered frogs, Indian cobras, giant blue earthworms, purple faced monkeys, & other widlife, flora and fauna from Sri Lanka.

Thailand All images from Thailand
Kui Buri Asian elepants (Elephas maximus) in the wild, Gaur (Bos gaurus) and other fauna and flora from Kui Buri National Park.
Sam Roi Yot The endangered Fishing cat (Prionailuris viverrinus) and prawn farms, Khao Sam Roi Yot National Park.
Kaeng Krachan Montane Forest, Civet cats, Porcupines and Dusky Leaf Monkeys in Kaeng Krachan National Park.
Khao Sok Rafflesia kerrii and other flora and fauna from Khao Sok National Park.


The Andes Landscapes, flora and fauna from the Andes of Chile and Argentina.

Namibia All images from Namibia
Etosha Wildlife of Etosha National Park, Namibia.
Namib Desert Landscapes, aerial views and flora of the Namib desert, Namibia.


South Africa Penguins, ostriches and fynbos, wildlife and flora of the Cape Peninsula, South Africa.